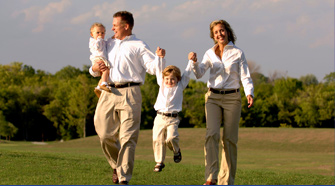 The trained and licensed counselors at Life Strategies are united behind a single purpose: helping people think through areas of concern and develop strategies to improve their lives. That's where our motto, Plan for Success, comes from, and that's what we seek to do each and every day.
Everyone could benefit from the help of a counselor trained to listen, clarify and help identify key issues in their life.
While the process and results will look different for everyone, the therapy team at Life Strategies is prepared to help, whether you feel like your life has become unmanageable or you simply see some issues beginning to arise that cause you concern. Here are some common challenges that the Life Strategies team might be able to help you with.
Family
Fighting for power in your family can be both exhausting and embarrassing. The trained and licensed therapists at Life Strategies seek to secure each of your family member's place in his or her complementary family roles. Negotiating family structure can be especially challenging if you or your mate has watched your own parents battle these issues. Your family is worth fighting for! At Life Strategies you can take the time you need to reorganize your thinking and your plan for action.
Marital

The marriage relationship can excite, encourage, and empower you in your day-to-day living. Over time, it can drain, discourage, and deplete you as well. It's a lot easier to get married than to stay married. At Life Strategies Counseling we want to train you and your mate to resolve conflict that has hindered your marital growth. Successfully resolving communication problems will put your marriage back on the track to renewed intimacy.
Adolescent
Peer pressure is only one issue in a long line of pressures facing the American teen today. We help adolescents come to grips with who they are in a changing world of relative values and fluctuating standards. While at times signs of trouble are obvious for others, the warning signs of trouble for teens often come in a much more subtle way.
Child
Attention Deficit / Hyperactivity? We seek to find non-medical solutions to your child's attention problems. Through our comprehensive assessment and evaluation process, we identify children who can be helped without the use of psychotropic drugs like Ritalin. If medication is the best option for your child, we are able to work with your family physician for medical intervention or provide a referral to one of the psychiatrists we frequently work with.
Erratic behavior like anger, depression or anxiety can be clues to a deeper problem for your child. Academic and peer pressure, bullying, divorce, separation, and conflict can trigger defense mechanisms in children. Many times, we as parents are the last to find out that our child has been subject to abusive environments. Getting to the root of the problem is always much more important than smoothing it over.
Anxiety
The cares of this world can echo so loudly in your mind that finding a solution seems impossible. As you turn over the endless options for action you can become paralyzed by your own analysis. You don't know which way to go or how to respond to the variety of issues directed at you. The fear of doing something wrong can immobilize you. At Life Strategies we will assist you to methodically identify solutions for long-term peace.
Depression
Depression comes in many shapes and sizes and for a variety of reasons.  If you suppress your feelings without resolving them, you become vulnerable to a lifestyle of depression. No matter what the conflict, the common and destructive denominator is that many remain unresolved. When you feel ashamed, guilty, depressed, anxious, or angry, it's a sure sign that one or more of these conflicts remain unresolved. "Just Suck It Up And Go On!" can be the worst advice. At Life Strategies we firmly believe that there are answers to life's problems. But, you can't even look for them if you "just suck it up and go on."